2012
Annual Report
Lauri Currier
Executive Director
The CALL
Leader's Message
No waiting children – that's what we are working toward! Whether temporary or permanent, the 7,000 children who spend time in care every year deserve a safe home where they can heal and grow and experience unconditional love. This is exactly what God did for each of us!
I am amazed by the incredible energy and commitment of the hundreds of foster and adoptive families mobilized by The CALL statewide. Foster families minister to hurting children and their biological families - helping to heal and reunify! Adoptive families take on the radical job of parenting children suffering from the effects of abuse and neglect. Many families have told me that this is the hardest job you will ever love – and that the blessings they receive far outweigh any sacrifices.
Volunteers bring local CALL affiliates to life, mobilize local churches, recruit and train families, and support them as they invest in the lives of children. Did I mention that these amazing people are volunteers? They are enthusiastic, positive, motivated, industrious, resourceful, and inspiring! I cannot say often enough how much I appreciate the dedication of every person it takes to make The CALL run statewide. You are the heart and soul of The CALL.
To our partners at the Arkansas Division of Children and Family Services - thank you for helping grow this unique relationship between a faith-based initiative and a government agency. It is so exciting to be involved in cutting edge work in the field of child welfare. Our challenge is to continue to develop this unique collaboration so that we can share our model with other agencies and initiatives, so children around the nation will have homes.
When God gives a vision, he also provides! Certainly, the work of The CALL would not possible without our donors. You are finding homes for kids. With your help we will reach that day when there will be no waiting children in Arkansas foster care – instead there will be Christian foster and adoptive families waiting to take them in. What a glorious day that will be!
Until no child is waiting,
God bless you!
Executive Director
Cecile Blucker
Director
Division of Children and Family Services
Department of Human Services
Leader's Message
Partnering with The CALL for the last 5 years has really helped DCFS recruit quality foster homes to help us meet the placement needs of the children we serve.
During State Fiscal Year 2012, we served 7,759 children in foster care and today we have 3,803 children in care. With the recruitment efforts of The CALL, we have more homes available to take care of those children who had to be removed from their home. When we talk with the children who come into care they tell us they want to be placed in a home setting — one with a mom, dad, brothers, sisters, etc. With The CALL recruiting homes in counties so children can be placed in their home county, allows children to remain in their local communities, allows them to be able to attend school and keep their relationships with relatives and friends.
It is not enough for us to just provide a "safe place" for the children we serve — we need to address all of the issues children have. It is traumatic for children to be removed from everything he or she has known regardless if they have been abused or neglected.
Even with the recruitment efforts of The CALL, we only have 1,152 foster homes available to the children we serve annually. DCFS looks forward to continuing and expanding our partnership with The CALL in the recruitment of more homes. I can remember when The CALL was only in 1 county — now The CALL is in 25 counties. One of the keys to our successful partnership is we want the same for the children — we want them to be loved, cared for and nurtured — we want them loved as if they were our own.
As I have said numerous times, WE are making a difference in the lives of the children we serve and we will continue to do so. With each passing day, we will get better at it!
We appreciate The CALL and we appreciate the love they show to the children they serve.
2012 Financial Information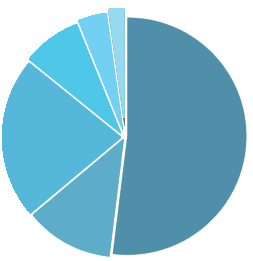 Funds Available $449,070
Individual $235,233
Churches $54,030
Corporations $97,927
Foundations $35,900
Events $15,987
Other $9,994
Funds Applied $449,070
Administrative $7,938
Program Support $369,038
Project: New Video $5,000
Projected Staff Needs $55,800
Increase In Net Assets $11,295
---
2012 Donors
Church Partners
Arkansas Prairie Youth Fellowship
Centennial Fellowship Church
Central Christian Church
Central Church of Christ
Christ the King Catholic Church
Christian Life Cathedral
Cornerstone Bible Fellowship
Damascus United Methodist Church
Eastside Baptist Church
Family Church, Inc.
Fellowship Bible Church
Fellowship North
First Baptist Church
First Baptist Church Maumelle
First Christian Church
First United Methodist Church
Geyer Springs First Baptist Church
Grace Baptist Church
Immanuel Baptist Church (Pulaski)
Immanuel Baptist Church (VanBuren)
Indian Springs Baptist Church
Landmark Missionary Baptist Church
Main Line Full Gospel Church
Mt. Pleasant Baptist Church WMA
Mt. Zion General Baptist Church
New Life Fellowship
Newsong Church Assembly of God
Outreach Center Church
Pleasant Valley Baptist Church (VanBuren)
Pleasant Valley Church of Christ
Pretty in Pink Proverbs 16-3
Pulaski Heights United Methodist Church
Scotland Baptist Church
Southside Baptist Church
St. Francis Episcopal Church
St. Mark Baptist Church
The Ark
The Church at Rock Creek
The Grove Church
The Meeting Place Ministries
The River Bible Church
Trinity Baptist Church
Trinity Episcopal Church
Wood Street Assembly of God
Foundations
Arkansas Community Foundation
Bailey Foundation
TCH Brinkley Foundation
The Robert C Englin Foundation
The Wal-Mart Foundation
Windgate Charitable Foundation
Corporate Partners
ABC Financial Services, Inc.
AmediStaf, LLC
Arkansas Arts Council
Arvest Bank (Benton/Washington)
Bound by Nature
C & K Management, LLC
CEC Entertainment
CenterPoint Energy Service Co., LLC
Chapter BN P.E.O Sisterhood
Chick-fil-A (Benton)
Chico's Retail Services, Inc.
County of Van Buren
Crye Leike Brock Real Estate
Curran's Abstract & Title Company
Datek Inc.
David L. Ouellette, DDS PA
Dust Bunny Clean, Inc.
Fairfield Federal Credit Union
First Arkansas Bank & Trust
Frost Oil Company
Grayson & Grayson, PA
Green Dental Laboratories
Heart of Arkansas United Way
Heber Springs Sonic Drive In
Holiday Inn Express
Jimmy Hudspeth Architect, PA
June Painter Heber Theatre
Nesco, Inc.
Northwest Arkansas Naturals
ORE
Pine Bluff National Bank
Shelton's Jewelry & Gift Gallery
Simmons First National Bank
Southern Bank
Stuttgart Kiwanis Club
The Jeweler's Touch
Wayne Smith Trucking
Wear & Share, Inc.
Webb Pathology LLC
Individual Partners
Kyle & Robyn Allmendinger
Mo & Debbie Amani
Chad Ambeau
Joel & Ann Anderson
Robert & Martha Anglin
Peter & Kathryn Austin
Elizabeth Aymond
Glenn & Betty Babb
Brian & Wendy Badgwell
Aaron & Holli Bagwell
Drew & Tiffany Baker
Lloyd & Sharon Baker
Mary Helen Baker
William & Ellen Bankston
Claude M. Barnard
Pierce & Ruth Barnett
Kevin & Christine Barnhart
Monica L. Bates
John & Melissa Baxter
Margaret R. Beam
Ricky & Leslie Beatty
Freddy & Sharyon Beck
Brian Beijen
Bobbye Bennett
John & Ellen Bertolacci
James & Jennifer Bigl
Charles & Stacey Bingham
Kaye Birkhead
Marlys Amanda Bitner
Aaron & Karen Black
Kurt & Carrie Blankenship
Sandra J. Blount
Konroy Boeckel
Anthony & Cathy Bornhoft
Boyd & Camie Boshears
Joshua & Lindsey Brackett
Carrol & Jody Bradford
Heath & Andrea Bradley
Sherri Bradley
Douglas & Camille Braswell
James A. & Niki Brenton
T. Allen & Vicki Bridges
Keith & Terry Broach
Brenda Brooks
Shannon Brooks
John E. Brown, III
Adam & Holly Brown
Donald & Lynne Brown
Dustin & Kayla Brown
Thomas (Monty) Bruce
Charles & Abigail Buchanan
Lance & Hope Bucher
Andrew & Leigh Bunten
T.P. Burchfield
Gregory & Crystal Burns
Wendy Cadell
Paul & Dorothy Cafferty
Candace Caldwell
Mike & Linda Cantrell
Tony & Laura Carden
Arlene J. Carlson
J.D. & Kelly Carnahan
Angela Carpenter
Hunter & Mary Carpenter
Logan & Christy Carpenter
Brian & Dawne Carroll
Keith & Anita Cathey
Donna Caughron
Marcus & Myra Chapa
Paul & Lori Chapman
Steve Choate
James & Marcia Clayton
Brandon & Karissa Clemons
Kathie Clendenen
Jerry & Rebecca Cockrell
George & Kay Coil
Sheryl Colclough
Juanita Cook
Robert & Barbara Cooney
Orrin & Deborah Corwin
Rick & Sharon Cossey
Jeff Cotton & Treeca Dyer Cotton
Stehpanie Cox
Jana Crain
David & Rebecca Cranford
Robert H. Crank
Marvn & Betty Crown
Phillip & Lauri Currier
Randy & Gayla Currier
Deborah Daniels
Kay Daniels
Rodney & Vicki Dardenne
Jacy & Amanda Daugherty
Jonnathan & Kristen Davis
Ron & Nan Deal
Ben Decker
Christina Decker
Branden & Julia DesCarpentrie
Jason & Amie Di Leo
Betty C. Dickey
Joe & Carolyn Diffee
Jerry & Sheila Dill
Bill & Tabietha Dillard
Justin & Hallene Dillier
Mike Disario
John & Michelle Douglas
David & Kristin Druey
Leo & Alicia Ducote
Gerald & Kristine Durham
Rich & Kristi Eckerd
Virginia Elam
Richard & Pat Elimon
Maelu Ellis
Keith & Joni Englin
Ronnie & Piper Erwin
Michael & Ashley Escue
Bart & Kimberly Ferguson
Max & Patti Ferguson
Lynnette Files
Charles & Carol Fincher
Edward & Marilyn Fincher
Daniel & Amy Flanigan
Steve Fletcher
Michael and Lara Flowers
Winston & Mary Ned Foster
Jason & Steffanie Fowler
Patsy L. Fox
Therese Free
Jane E. Gardner
Scott Gentry
Jason & Paige Gibson
Charles & Gena Glenn
Philip K. Glover
Craig & Melissa Golden
Steven & Shauna Gould
Christine Goulet
Susan Grady
Waldemar & Vera Grafals
Michael Graham
Mike & Melissa Graham
Tom & April Graney
Sandra Gray
Douglas & Nancy Green
Don & Janet Greenway
Todd & Charlotte Greer
Jess & Tonia Griffin
Michelle R. Haerr
Zachary & Joanna Hale
Kevin & Kristen Halpin
Janice Hanlon
David & Terri Hardy
Bobby & Brenda Hargis
John & Linda Kay Hargrave
Ramona Harper
Kristi Harris
Ray Bob & Laura Harrison
Teresa A. Hart
Chad & Nancy Harvison
Sam & Patricia Heird
Wendy J. Henderson
Anthony & Carla Hendricks
Patrick & Carrie Henry
Bart & Ashley Hester
Jonathan & Carmen Hetzel
Chris & Judy Hibbs
I.J. Hickory
Brett J. & Jamie Holiman
Jerry Holmes
Alexander Hood
Kristine Hood
Ashley Hooten
Malley & Patricia Howell
Bill & Betty Huber
Tommy & Barbara Hutto
Missy Thomas Irvin
James & Karen Jackson
Timothy & Donna Jackson
Sanjeev & Rashmi Jain
Josh & Rebekah James
Andrew Janssen
Gary & Danette Jennings
Caleb & Rebekah Johnson
Jem C. Johnson
Richard C. Johnson
Claes & Diane Jonasson
Danny & Connie Jones
James & Helen Jones
James & Rebecca Jones
Amber Kagebein
Karl & Tamara Kay
Jim & DoodyKeet
Lane & Denise Keeter
Bill& Jan Keith
Sammie Kelley
Timothy & Kristi Kelley
Mark & Mary Kendall
Lou & Karen Ketchum
Jarred Kibbey
Paige Kibbey
Tyler & Kari Kidd
Mr. & Mrs. Charles Kinslow
Thomas Kirchner
Daniel & Barbara Kirkpatrick
Mark & Tiffany Knight
James & Pamela Knippel
Ron & Carolyn Knowlton
Timothy Kreiner
Brian & Jenny Kubacak
Paul & Sonya Kuykendall
M.M. & Marlo Lackey
Darryl Laws
Cheyenne Leavelle
Mark & Lisa Leggett
Mark Leverett
Barbara C. Little
Bryan & Joy Looney
Jacob & Elizabeth Macpeek
David & Marty Maier
Harold & Monica Mannis
Leadra Martin
Matthew & Christie Martin
Larry & Anita Martin
Roger and Rebecca Mathison
Stacey McBryde
Kara McCarty
Harry & Barbara McClintock
Hugh & Erin McConnell
Robert McConnell
Jeffrey & Kristi McFarland
Gary & Phyllis McGhee
Dennis McLemore
Donald & Sandra Melton
Rachael S. Merritt
Kerry & Ann Meythaler
Ashley N. Michael
Jim & Patricia Miles
Josh Miller
L.E. & Gay Miller
Charles & Doris Mixon
Jason & Jolie Mizell
Marion Moeller
Angela Moore
Teresa L. Morgan
Howard G. & Marge Murray
Steven L. & Belinda Murray
Dick & Nealia Neal
Lee & Rhonda Nelson
Gina Newman
Jeremy & Jennifer Newton
Joshua & Rachael Newton
Matthew Nickle
Richard & Deborah Nordskog
Stuart & Lea Ann Norton
Stephanie Nudelman
Alain Nzigamasabo
Matt Orcutt
Tracey Osborne
Gordon & Pat Page
Phillip & Shannon Pate
Bruce & Johnnie Patterson
Jason & Mary Carol Pederson
Brett & Gina Pharis
Gary & Kella Pharris
Kayla R. Phelps
Eugene & Shaleen Phillips
Gary & Rebecca Phillips
John & Alpha Pickell
Melanie Pike
Anne M. Pinkley
Jeffrey Pistole
Dana & Kimberly Plattner
Gary & Denise Posey
James & Kim Poteat
Ashton Price
Greg Primm
Cynthia D. Quinn
Randy & Diana Ragsdale
Bob & Pat Ramer
Russ & Tenille Rauls
Eugene M. Reagan
Gary & Tonya Redd
Mark & Contina Reinert
Richard Harris
Sue E. Richardson
Rico Harris
Keith & Sally Riggs
Melinda K. Rinkenberger
Lonnie & Robin Robinson
Greg & Debbie Robus
Yvonne Rodgers
Eddie & Kathy Rogers
Rue Porter Rogers
Louis & Larissa Rolleigh
Josh & Lauren Ross
Josh & Teyerra Ross
Mark & Dianne Ross
James & Merritt Royal
John & Tina Santoro
Joachim & Jennifer Sathianathan
Matt & Jennifer Saweikis
Rachel Schaeffer
Mark Schatzman
Stephen Schotta
Matthew & Tamara Schrand
Phillip & Amy Scoggins
Dale & Jan Sharp
Robert & Carol Shaw
Richard & Jo Sheeley
Chris & Trudy Smith
Jason & Amy Smith
Jeffrey & Leslie Smith
Peter Allen Smith, Jr
Robert C. Smith
Tim R. Smith
Wayne & Peggy Smith
Jimmy Smithey
PJ Smykla, Jr
Kevin & Amy Sorg
Brenda Southerland
Valerie L. Spivey
John & Anita K. Stafford
Phil W. Stark
Kernoal & Phyllis Stephens
Sandra S. Stevens
Darren & Corie Stinson
Freddie Stovall
Carolyn Stowers
Sammie & Anita Strange
Lena Strickland
Neal W. Tate
Dewain & Charlotte Tennant
Jared & Katie Thomas
Kevin & Netta Thomas
Loy & Jennifer Thompson
Thomas & Paula Thornton
Harold & Donna Timboe
Matthew & April Timboe
Scott Tomlinson
Lori Treat
Layne & Karen Tubbs
James & Kelly Turner
Billy & Patricia Tyree
Michael & Linda Undernehr
Gary Underwood
Seth R. Vannaman
Christopher & Jana Villemez
Natalie Vinsant
Biff & Nancy Vinson
Phillip & Andrea Wade
William & Bonnie Wagner
Keith & Cindi Wallace
Joshua & Meghan Walton
Kim Walton
Warren J. Watkins
David & Caryl Watson
Michael Weaver
John Weems
Carolyn Wellons
John & Lisa Welton
Ken & Debbi West
Becky Westerfield
Tim Wharton
Donald & Jennifer White
J.L. & Martha White
Matthew & Kelly White
Charles & Cappy Whiteside
Sara Whitfield
Dana Wiegand
Larry & Beth Wilkins
Jeremiah Williams
Thomas & Darlene Williams
Dianna Wilson
Neal & Jenni Winstead
Shelley Woessner
Jerome & Patricia Wolf
Danny & Rebecca Wood
David & Gail Wood
Edwin & Shirley Wood
David & Diana Wright
Tanya Yates
Dom & Karen Yezzi
Chris & Anna Zink